The figure below shows how the various components of the total cost of owning and operating a piece of equipment (or any technology) form the total cost of ownership (TCO).
<![if !vml]>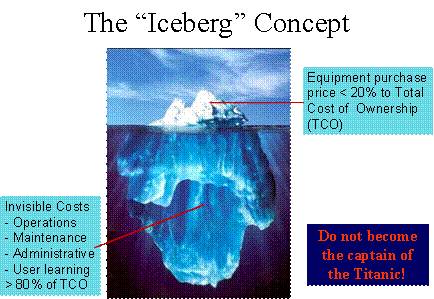 <![endif]>
(Source of iceberg composite picture+drawing: US Coast Guard, International Ice Patrol)
Please contact BSI to understand how these values were calculated and how can you reduce your total cost of ownership.

Some recent presentations, publications, or reports produced by BSI
Acquisition Strategies for Medical Technology, International Forum for Promoting Safe and Affordable Medical Technologies in Developing Countries, May 19 – 20, 2003, The World Bank, Washington, D.C.

Contact Information
Electronic mail info@BSI-Consulting.com